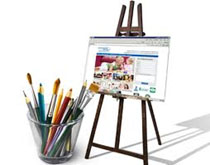 If there is anything we know, it is that trends are constantly changing. It doesn't matter what category you stack it up against, every trend comes into our zeitgeist and leaves just about as quickly as it showed up. This said, it is important that you keep up with said trends to maintain and continue to grow your website traffic. It typically takes a visitor 10-20 seconds before they make up their mind about your website, and if not impressed, they're gone. So, when designing your website, keep these outdated trends in mind:
Loading screens. No visitor wants to wait around for 15 seconds watching a loading screen just to get to the content they would like to view. If your site needs to load, you have too much going on and need to taper back the design content.
Auto-play video/music. Not only is auto-played video/music annoying to your visitor, but a distraction. If you require having some sort of audio or video on your website, give your visitors the freedom to listen or watch.
Pop-ups. Pop-ups that engage you to take a certain action or to subscribe to a blog, aren't bad marketing tactics, as long as those pop-ups aren't diverting your visitor's attention elsewhere.
Flash sites. Flash is now a trend of the past, as most devices can't read Flash. So, if your website is incorporating Flash, it's time to redesign.
Stock photos. When it comes to stock footage, be particular. The photos you choose for your website can either make it, or break it.
For more information contact Jelly Websites at 951-371-9327 or visit our website at www.jellywebsites.com.