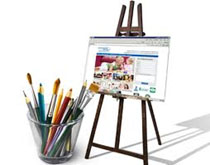 When designing a website, we become obsessed with filling it with content. We want everything on our site so potential clients can find us on the road to success. But what about the footer? Did you design a great footer? Although this area of your website may not be the most eye-catching area of your site, your visitors look for the footer in search of important information. Here are some tips:
Simplicity is best. When dealing with lots of information, keep it easy for your visitors to find the information they need.
Link up. Two of the most important links on your website are the contact and about us sections. When visitors land on your webpage, direct them to these pages.
Contact information. Besides including "Contact Us" into your footer, add your contact information, including physical address, emails address and phone number.
Keep it important. Your information should be divided in columns or rows and arranged by relevant important information like contact information, social media, links, etc.
Copyright it. Including a copyright notice is extremely important to your security and can save you from facing many problems. Include the copyright symbol, name of the copyright owner, and the year it was created.
Call to action. Add the extra nudge your visitors need to sign up for newsletters, subscribe to blogs, or to send an email requesting a quote.
Contrast and readability. Your footer is typically small in size and much of your info is kept in that small block. Color, brightness and contrast should also be taken into consideration.
Graphics. Add logos or graphic elements to draw the eye but be careful not to overdo the small space with too many elements.
For more information on website footers, contact Jelly Websites in Corona, CA at 951-371-9327 or visit our website at www.jellywebsites.com.
Proudly serving Corona and all surrounding areas.