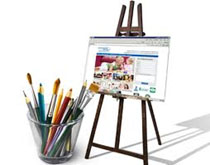 Often times when people build a website they think it's going to start making them money right away, but they don't realize that their website needs traffic to create any sort of leads or revenue. Just because you build website, it doesn't mean it will generate traffic right away. If your website is lacking traffic, that means you're probably not taking some important steps in your websites design to get you noticed. The following lists what you need to be incorporating into your website to generate successful traffic flow:
Search Engine Optimization- Are you taking advantage of SEO? Most web traffic comes from search engines, your website must be optimized with certain keywords to make it on the top of search engines. Your keywords should target the audience you're trying to attract to your site, think from your visitor's point of view, what key words would they search to find your company?
Social Media- Now that Social Media has been taking over the internet world, it is often a great way for people to find information, even if they didn't know they were looking for it. Having a stand-alone site is great but it must also be complimented with having a social media page, such as Facebook or Twitter. For instance, having a Facebook "Like" or "Share" button on your webpage allows for your visitors to "Like" or "Share" your company's Facebook without having to navigate away from the site to do so. Also, if people enjoy your content on social media they will be like to visit your site more.
Clean Look- You don't want your websites content to overwhelm your visitors, if there's too much to read your visitors may become uninterested and leave your page.  You also want your webpage to be easy to navigate, if it's difficult to find what your visitors are looking for, they will leave.
 Blogging- Having a blog for your website is very vital to have, it's the perfect and easy way to continually add new content without disrupting or displacing other important content. The content you add in a blog is also very useful for SEO, a search engine will see this content and use it in search engine results. Blogs are also great for your visitor, your blog could be aimed towards helping the visitor with problems or even find solutions for certain subjects your company is knowledgeable about.
Give your visitors the best experience possible and reap the benefits! Call Jelly Websites in Corona, CA at 951-371-9327 to learn more about website design or visit our website at www.jellywebsites.com for more information.
Proudly serving Corona, Riverside, Chino, Ontario, Anaheim, Tustin, Yorba Linda, Fullerton and all surrounding areas.