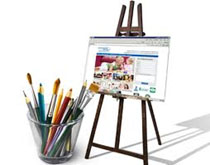 When you are getting your online business started entail lots of planning and one of those plans needs to be a website. The problem is, what kind of website do you need? Do you need lots of pages to showcase your products and/or services? Or can you get the job done with a single-page website?
Many new business owners believe more is more, but many times it really is unnecessary. Sometimes, having a single-page website is exactly what the doctor ordered. Here are some of the smarter reasons you may want to consider taking the less is more approach:
Content. Single page sites content should include information about your company, what you do, and how you can benefit your visitor.
Visual design. Your visual design is the first thing your visitors see. Make sure the theme of your site relates well with the colors and the overall topic of your company. Utilize that empty white space.
Credibility. The first thing your customers want to feel is trust. Include proof that you are a company that can be relied on, such as testimonials from happy customers.
Call to action. Incorporating a call to action is an important key element. That action could range from purchasing an item to obtaining personal information to grow an email list. Also, offering something in return for your visitor's information can generate more leads.
Responsive design. Since most people are using some sort of mobile devices or tablet, you must make sure your website is responsive to that knowledge. A responsive design allows for your website to convert to any size screen, on any device.
If you'd like to find out more about single-page websites, contact Jelly Websites in Corona, CA at (951) 371-9327 or visit www.jellywebsites.com for additional information.
Jelly Websites proudly serves Prescott, AZ and all surrounding areas.